COUNTRYSIDE PORTABLE BUILDINGS
Countryside Portable Buildings is a statewide North Star Portable Buildings dealer in Central Wisconsin. We are located on State Highway 33 between Baraboo and Portage Wisconsin 2 miles West of I-90. Although you cannot see the multitude of buildings on display, there is quite a collection to inspect and choose from. Stop in, pick up a brochure, examine the quality and workmanship, I'm on site several weekdays and always available by appointment.
When you stop or call Rick and Helen Mueller the proprietors of Countryside, you'll know right away you've found the right people to work with.  We enjoy helping people in the process of finding the right size and type of building for their needs. We have the knowledge and will answer any questions about the various features, styles, ordering, and delivery of your custom built portable building.
Building choices include portable garages, cabins, barns, sheds, and many lofted structures for extra storage of tools and toys of all types. With so many so many options available you will be able to custom order a unit unique to you, your style, and needs.
The buildings on our lot are open for inspection all the time during daylight hours for viewing independently. If you would like to have someone meet with you, after 5 p.m.weekdays, on weekends, or holidays, I am available by appointment. Please call or email to set up a time.
North Star Portable Buildings offer numerous other customization options not mentioned including a package which conforms to the UDC (Uniform Dwelling Code), for an additional fee. This is necessary in some municipalities when the structures are slept in overnight. Furthermore, we offer multiple building discounts when you buy more than 1 at the time of ordering. If the size you need is not in the price list, call, we may be able to accommodate.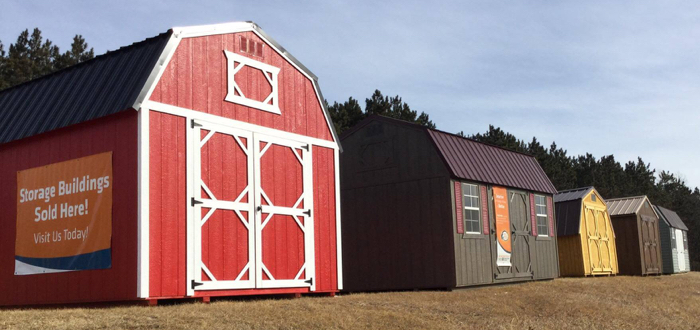 OUR HISTORY
In November of 2017 Paul Miller of North Star Portable Buildings reached out and invited us to join North Star's team. Thus, Countryside Portable Buildings d/b/a CHD LLC was born in January of 2018. It shares the property with our Countryside Automotive LLC. which has been at this location since July of 1981.
Although we are fairly new to the selling aspect, the concept of portable structures is not new to us. For many years utility sheds, garden sheds, play houses, and even chicken coops were built and delivered by us to customers. Most of them were delivered to lakeside homes or a local campground for seasonal storage. Since it was a hobby, the buildings were built during evening and weekend hours.
Several years ago our time became more limited and the building ceased, but our interest and knowledge remained. Today, representing North Star is an ideal fit for us. You can rest assured knowing that we have the experience needed to ensure the best outcome for you.
ABOUT NORTH STAR
North Star Portable Buildings is located in Athens Wisconsin. It is a family operated business building quality, affordable, portable buildings at a decent price. Plus, in most cases, it's free delivery nearly any place in Wisconsin. Countryside Portable Buildings can sell you a building that North Star will deliver to your residence, business, or weekend getaway!
GETTING STARTED
From choosing the building style and sizes, to all of the options available, start your journey designing just the right portable building for you!